Hitachi WiFi IP Phones WIP 5000
I've had one of these for a while and tried it successfully on sipX and Asterisk systems.
The Hitachi WIP 5000 WiFi phone is a nice quality set. It feels solid to the hand and not just like a cheap piece of plastic.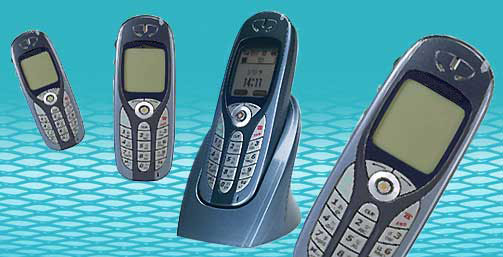 Wireless network setup is not for a noob but not overly difficult. Only open and WEP 64/128 are supported for modes. It would be nice if WPA was also available... most people get turned off when only WEP is supported.
The screen is a monochrome LCD with a backlite. Very easy to read and a reasonable size.
There is a cool optional USB cable available for charging the unit while on the road. There are also extra batteries & carrying case to go with the phone. Batteries are easy to change but a single battery should last most users a full day.
There's also headset jack on the left side of the unit allowing for hands-free operation.
As with any WiFi phone you'll want to watch the number of sets per access point but you should be pretty safe with 5 to 6. If your users aren't that active you can probably get away with more.